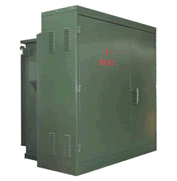 YB27 series 12KV, 50Hz ( referred to as prefabricated substation substation ), used in 10KV ring net power, dual power supply or terminal power supply system, as the transformer, distribution measurement, compensation, control and protection devices.
In addition to a transformer substation, high voltage side is also provided with a four station ( or two position ) load switch, backup protection fuse and fuse; low voltage side according to the requirements of users can install matching control of electrical appliances, electrical power distribution, compensation device and meter etc.. In transformer oil is used as insulation and arc extinguishing medium.
The products of foreign advanced technology, combined with the domestic situation development. Integrated product has the advantages of small volume, convenient installation, low noise, low loss, full protection, convenient repair, high ratio of performance to price and features, applicable to the New District, greenbelt, park, station, wharf, hotels, construction sites, airport etc..